A solar purchase offers a simple solution for rising energy rates. 
On average electricity costs rise at a rate of 4% per year. Electricity rates can fluctuate throughout the year depending on your electric company. For example, PNM announced customers can expect an increase of approximately $0.46 on their monthly bill beginning next month.
While the increase is relatively small, the impact over time, means customers will inevitably pay more with each passing year. By installing a solar energy system, homeowners can safeguard against rate increases; and instead, secure today's electricity rates for a minimum of 25 years.
How much can you save and what is your return on investment?
Savings are determined by the size of your solar system and your family's electricity usage. Most customers see a return on investment of approximately 10% in the first year of their solar panel installation, and a majority of our customers are able to pay off their purchase in 7 to 8 years.
What is the Solar Investment Tax Credit?
Solar customers continue to be eligible for the Federal Tax Credit of 30%. This is a huge benefit to homeowners that can realize the benefits of a tax credit. Additionally, customers who do not have tax liability in year 1 can 'roll over' the tax credit to following years. As with all tax situations, a homeowner should alway consult with their tax advisor to determine their eligibility.
The below image, by Energy Sage, outlines the Investment Tax Credit schedule from 2016 to 2022.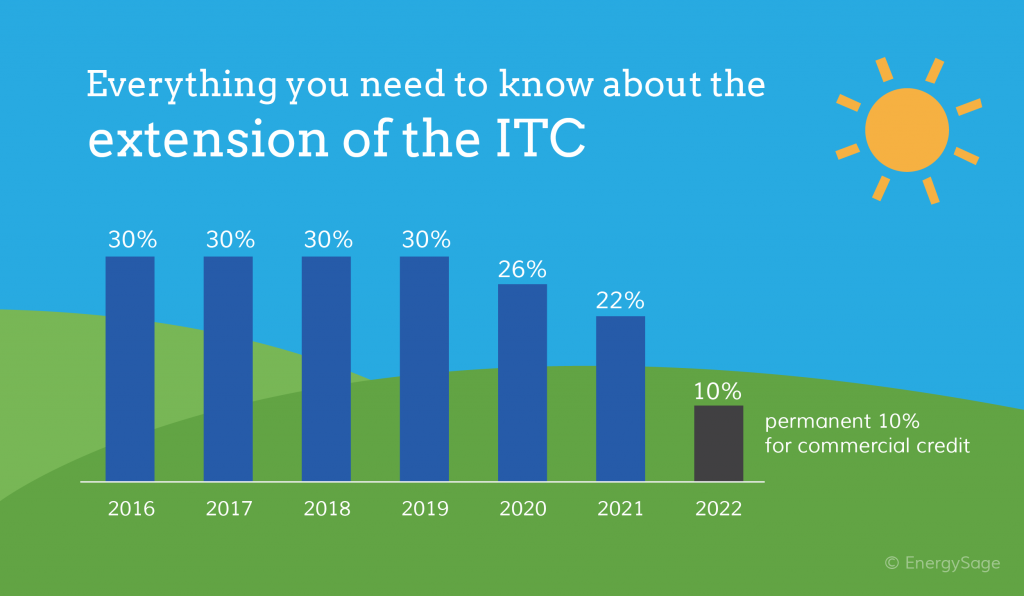 What Purchase options should I choose?
Sol Luna Solar offers worry-free financing options through local lenders and national partners.
Nusenda Credit Union offers excellent rates/terms which helps customers maximize their financial return on the solar purchase faster than higher interest lenders.
The excellent customer service offered by Nusenda also provides homeowners peace of mind when borrowing money for the solar panel purchase.
We also provide additional financing options through U.S. Eagle and GreenSky. U.S Eagle offers great rates and the approval process is simple. GreenSky offers short term no-interest loan options that work great for the solar customer who plans to pay off their solar purchase in a relatively short period of time.
An in-house cash payment plan allows customers to pay off the system gradually, leading up to the installation, and pre-final inspection of the system.  Our customers appreciate that we do not require the entire cash payment upfront, and instead spread it out over the project's timeline.
Is 2018 your year to install solar panels at your home?
The fact is, electricity prices are not getting any cheaper, and with uncertainties within the solar industry (see solar tariffs), customers should take advantage of current stock and availability of solar panels before local installers feel the effects of solar panel import tariffs.
It is unclear how much solar prices will rise in 2018, but one certainty is that regardless of what you pay today or tomorrow, the long-term benefit of a solar panel installation far outweighs the cost to consumers as electricity prices continue  upward year after year.
For more information or for a Free Solar Consultation contact us at info@sollunasolar.com or call 505-455-8875.
Gain Control of Your Electricity Costs!
Never pay more for your electricity. Save today by purchasing a solar energy system.